Pre-Combine Round One Scenarios for the Carolina Panthers
Our beloved Tepper/Rhule-led Panthers can now look forward to the 2022 NFL Draft as Super Bowl 56 capped off another dramatic NFL season. 
Going 5-12 is never ideal, however, the draft usually grants hope for a brighter future; for the Panthers, this is not the case. Carolina traded away their own 2nd, 3rd, and 4th round picks. Two of those picks were lost because of Matt Rhule's obsession with mediocre Sam Darnold. Another was lost because Carolina was apparently in "Win-Now" mode after beating the Jets, Saints, and Texans. (The trade for C.J. Henderson)
We were able to restore a 4th round pick, but as of now, Carolina doesn't have a 2nd or 3rd. The damage is done. We can't dwell on the past. LET'S GET TO WORK!
To begin chipping away at this off-season, I'd like to share some of the different first round scenarios you could, or let me rephrase based off their incompetencies, should see Carolina make in round one.
THE QUARTERBACK SCENARIO
What was once considered a poor quarterback class has finally gained some appreciation following the Senior Bowl. Malik Willis out of Liberty, and even our guy Sam Howell, both reminded us why they were two of the pre-season favorites for QB1. And there was that other pre-season favorite from Oklahoma who was benched, and then transferred to South Carolina… ouch. No, you will not be seeing Spencer Rattler at the 2022 draft.
Even Desmond Ridder from Cincinnati seemed to improve his stock a touch. Kenny Pickett on the other hand (pun intended) will measure poorly at the Draft Combine, in well, his hand size. And this isn't news to anyone, Pickett even skipped out on measuring at the Senior Bowl like all the other quarterbacks. Teams have been aware of his smaller hands, but one report came out that Pickett struggled in the rain during one of the Senior Bowl practices which immediately raised the question- was it the hands?
Anyways, we can't discuss this scenario without talking about a QB that didn't attend the Senior Bowl- junior, Matt Corral from Ole Miss. Many believe Corral is the most pro-ready quarterback in this draft, and yes, when you watch Corral's highlights the arm strength is EVIDENT.
Wow! By the sound of it Carolina must have many options at quarterback and they can't really miss… wrong. This quarterback class doesn't have a true number one guy and it doesn't speak to how good they are, in fact, it's the complete opposite. 
There's no Lawrence, Wilson, or Fields. No, not even product of the system Mac Jones. So if Carolina wants a quarterback at six, who should they select? I have no clue and neither does anyone else. Therefore, is taking a quarterback with the sixth pick really worth it when you could start building the stonewall for your hypothetical future quarterback, by drafting a bluechip offensive lineman.
If Carolina feels confident in one of these quarterbacks, I won't trust it, but IF, ONLY IF, they feel confident, you don't really trade back for a guy you think could be the franchise. Meaning, I couldn't see a scenario where Carolina trades back and takes a quarterback later in the first. Everything is just so blurry as of today. Maybe Carolina realizes closer to the draft that their "guy's" stock has dropped, then maybe due to the risk of this QB class they make their own risk by trading back and hoping their guy is still available.
As of today I don't think Carolina should draft quarterback at six, and this is more so a knock to our offensive line rather than this quarterback class. There is no point in throwing a rookie into that fire of doom.
THE ONLY LOGICAL OPTIONS AT SIX: Kenny Pickett (Pittsburgh), Sam Howell (North Carolina), Matt Corral (Ole Miss), Malik Willis (Liberty)
THE OFFENSIVE TACKLE SCENARIO
Let's start this scenario off with an interesting stat I discovered recently- Carolina will head into next season with the sixth most expensive offensive line… IN THE ENTIRE NFL!
This is surprising, right? I mean we could visually see just how awful this offensive line was. Also, PFF graded the Carolina Panthers offensive line unit as the second worst in all of football, making the stat even more bizarre.
When you view the grades, or just flat out take a look at the roster, Carolina actually has bigger holes to fill interiorly. Not only is Taylor Moton locked in at right tackle, but rookie, Brady Christensen, gave Carolina some promising snaps at left tackle. Although, I highly doubt Christensen would cause Carolina to pass on one of the top offensive tackles in this upcoming draft. Someone else could, but I'll get to that shortly…
As we know, Carolina currently sits at six. Edge rushers Aidan Hutchinson and Kayvon Thibodeaux are expected to be two picks before Carolina, meaning the Panthers just need one of those other three picks to be anyone other than Evan Neal, Charles Cross, or Ikem Ekwonu. Each of these linemen have their own unique traits, but for now, we'll keep it blunt- they are potential franchise left tackles. More importantly, they would be a clear upgrade for a team that has had a long-term struggle with protecting their quarterback.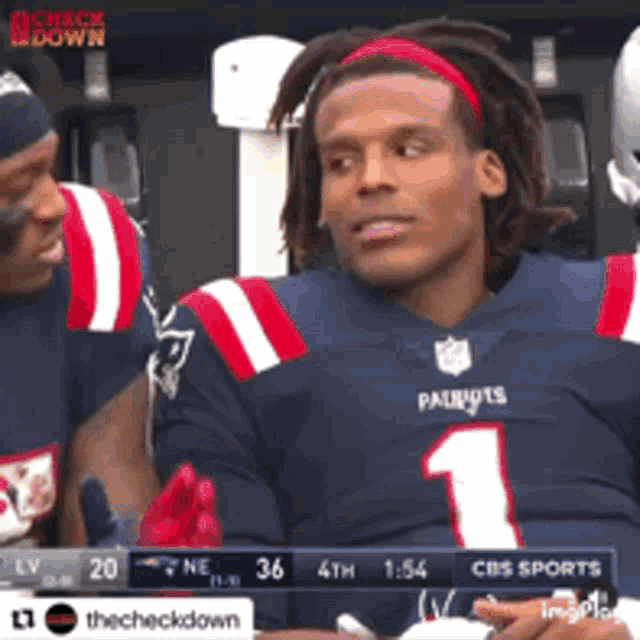 THE ONLY LOGICAL OPTIONS AT SIX: Ikem Ekwonu (N.C. State), Evan Neal (Alabama), Charles Cross (Mississippi State)
THE TYLER LINDERBAUM SCENARIO
When I alluded to someone outside of a quarterback being able to move the Panthers off a tackle, the Iowa center is who I was referencing.
Also, remember when I mentioned the Panthers offensive interior is just as, if not worse than the tackle spots, well, I saved one piece of information until now- the interior will get even worse with Matt Paradis' future in jeopardy with Carolina. More than likely the door will be open for the center position in Carolina, and what better way to fill it than by adding the "Best center prospect we've seen in the PFF College era." Not to mention, Linderbaum would be under a rookie contract, so money could be spent elsewhere to improve the line.
We could sit around discussing just how physically dominating Linderbaum could be, but I trust him to be just that. What I don't trust, is the other interior linemen for Carolina. Therefore, I think it would be more valuable to discuss the communication skills of Linderbaum, and how that makes everyone around him better.
One more thought for this scenario- Similar to the safety, linebacker, etc. the interior linemen position is not as valued like other positions. This means Carolina could potentially trade back, acquiring some much needed draft capital, while still drafting the Iowa standout. Maybe a team like Washington (11) or Minnesota (12) would be interested due to their need for quarterback.
As of this very moment, I'm talking pre-combine, three days after the Super Bowl, trading back and drafting Linderbaum seems like the dream scenario. Would someone of his talent be around outside the top ten? Only time will tell.
THE ONLY LOGICAL OPTION: Tyler Linderbaum (Iowa)