1. Bryce Young QB 2023 (ALABAMA)
The race for QB1 in the 2022 NFL Draft is alive and well, but this would not be the case if Bryce Young were eligible. Even as an undersized quarterback, Young brings many qualities that pro scouts will drool over next year. My personal favorite is Young's ability to stay calm. No, I'm not just talking in the pocket here, I'm talking larger! Despite leading one of Nick Saban's least talented offensive groups, Young's mental strength was put to the test all season, but overall, the sophomore just looked comfortable in those strenuous moments. This is a huge reason why you don't see many forced passes by Young.
The arm strength and talent are both accounted for as well. However, we'll save some meat on the bone for Bryce Young discussions since he won't be eligible until next season.
Targeting the offensive line should be Carolina's top priority over the next couple drafts, but the quarterback position will always be the most important in football. Therefore, sophomore Heisman winner, Bryce Young, will be the Carolina Panthers number one prospect from the National Championship game between Alabama and Georgia.
---
2. Jamaree Salyer OL 2022 (GEORGIA)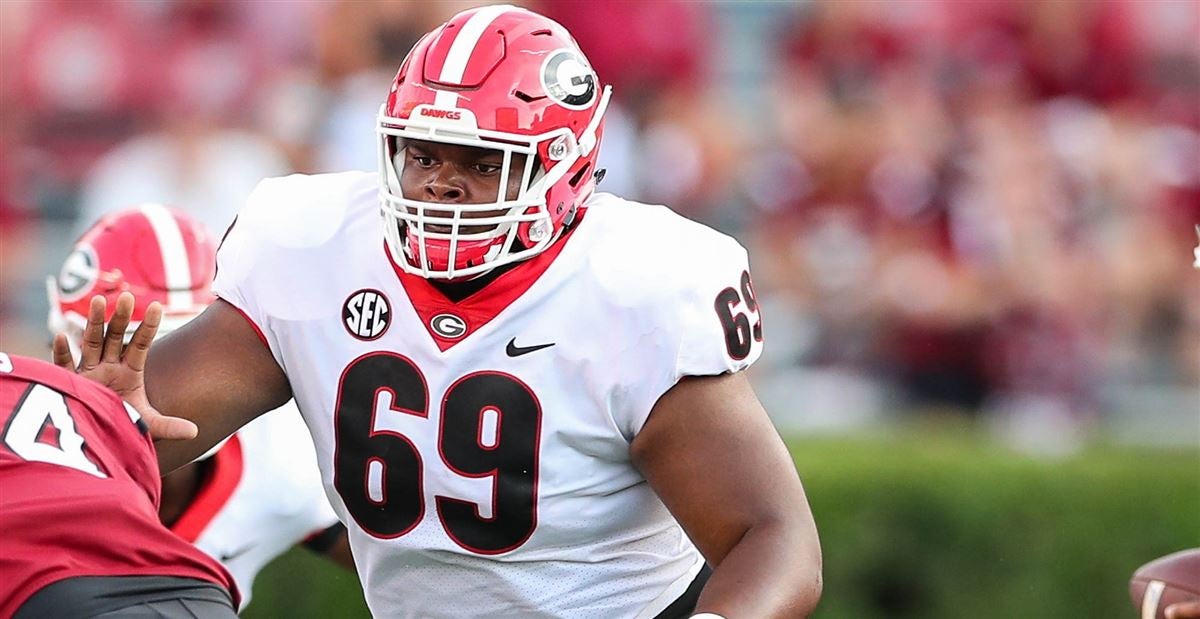 The Carolina Panthers offense has been extremely difficult to watch at times. Sam Darnold and Cam Newton had their fair share of turnovers, CMC couldn't stay healthy once again, but the Panthers offensive line was abysmal to say the absolute least. Honestly, with how much our quarterbacks were getting pressured, how could you properly evaluate anyone behind center in Carolina? A more valid question is where should Scott Fitterer and company begin?
Right tackle is locked up with Taylor Moton for now, but nothing is certain elsewhere. Therefore, look no further than Jamaree Salyer out of Georgia. You will see Salyer at left tackle come Monday night, but don't expect to see him there on Sundays. While Salyer has been great at left tackle for the Dawgs, this isn't his natural position. Expect Salyer to be drafted as an interior offensive lineman, more specifically, left guard. Personally, I believe Jamaree Salyer was coming into this draft a touch underrated, but if Georgia with another huge game come Monday night, he will begin to fly up the mock drafts.
---
3. Evan Neal OT 2022 (ALABAMA)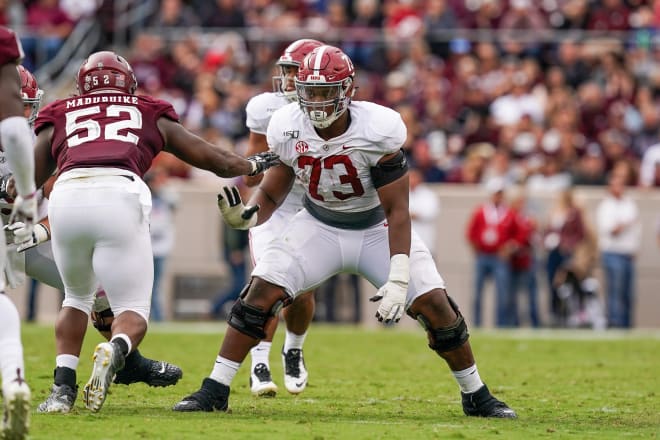 Brady Christensen is showing real promise at left tackle, but if Carolina wanted to add depth and competition to the left tackle position, then Evan Neal will be their best bet on Monday night. The 6'7 350 pound left tackle obviously brings size to the position, but Neal has tremendous length and quickness as well. These characteristics make Neal a dominant force in run and pass blocking.
As of right now, Evan Neal is a projected top five draft pick in this year's draft. The NFL Combine still needs to happen, but as of now, Carolina doesn't have a realistic shot at being able to draft Neal.
---
4. Jalen Carter DL 2023 (GEORGIA)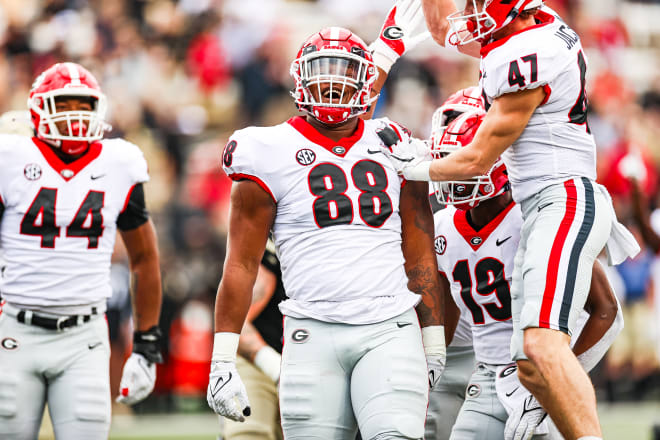 You can never have enough defensive linemen. In fact, the Carolina Panthers are getting a touch thin interiorly, but it's hard to notice with glaring needs elsewhere. DaQuan Jones is set to become a free agent this offseason, leaving the likes of Derrick Brown, Bravvion Roy, and Daviyon Nixon to hold down the fort. I've seen solid things from all three, but it won't be enough; more depth and talent needs to be added.
Jalen Carter is a projected first round pick in the 2023 draft, and his stock only seems to be going up. Carter has some scary strength, and I'm actually referring to some tape I watched of his freshman season! Along with the strength, Carter can really move for a 310 pound man. 
If Bryce Young or C.J. Stroud isn't obtainable in the 2023 NFL Draft, based on Carolina's current situation, Jalen Carter would make a ton of sense. Not to mention, if Carolina can patch up the other side of the line of scrimmage this offseason it would be a no-brainer.
---
5. Brock Bowers TE 2024 (GEORGIA)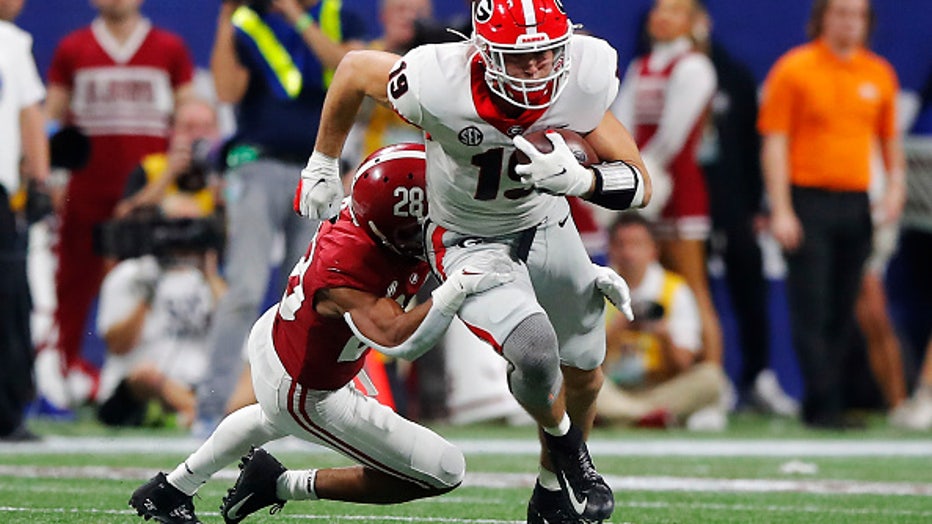 Don't get me wrong, Tommy Tremble has been awesome. Carolina admitted he was drafted as a traditional tight-end due to his strength and special blocking abilities, but would be an experiment in the passing game. However, Tremble has brought in most of his targets and looked good after the catch, as well. I simply just want to discuss a kid that won't be available until the 2024 draft. 
There's no way you'll watch the National Championship without hearing Bowers' name. Brock Bowers, as a true freshman, was Georgia's leader in receptions, receiving yards, and receiving touchdowns. Bowers was also named a semifinalist for the John Mackey Award, along with other national accomplishments, as well. As you watch the tape, you notice Bowers defeats defenders in so many ways. Who knows what Tommy Tremble's game or the Panthers roster will look like two years from now, but if Carolina wants to find the next Greg Olsen, he may just be in Georgia right now.
---